e - Commerce y Marketing Digital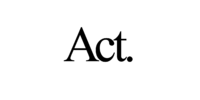 www.act-series.com
País :

España

Comunidad Autónoma :

Provincia :

Islas Baleares

Población :

PALMA DE MALLORCA
Categoría :

Tipo de contrato :

Jornada laboral :

Completa

Sueldo :

1400

Experiencia :

< 2 años

Idioma :

Inglés(Alto)
Descripción de la empresa
Act is a brand of espadrilles and accessories established in 2013 between Mallorca and Berlin. One of the brand's most important assets is its ability to deliver simple and timeless products manufactured with materials of indisputable quality, and with thorough attention to detail.
The company just opened a new Office and Showroom in Palma de Mallorca.
Descripción del puesto
- Daily management the website: adding new products in, deleting old products off, updating pricing, promotional announcements.

- Manage and develop the eComm market place, monitoring sales, pricing trends, and looking for new opportunities.

- Monitor new trends and consumer behavior in the digital space and make sound recommendations to increase traffic and enhance brand exposure online.

- Actively domestic sales support, customer and consumer communication (emailing, telephone calls).

- Stock management: control, packaging, delivery management, stock maintenance.

- Database management: consumers, customer.

- Social networks - updating, communication. Content.

- Web analytics, monitoring and reporting.

- Conversion monitoring and corrective actions.

- SEO and SEM.

- Submit and reconcile expenses reports and invoices.

- Support web design and web analytic software.
Perfil
- Organizational skills and strong attention to detail
- Structured, analytical, proactive and result oriented
- Digital marketing experience and keen interest
- Team players
- Adaptability and able to multitask
- Digital passionate
- Digital management/ecommerce experience
- Knowledge of Bulk Editing and Google Adwords
- MS Office
- Ideally use of Adobe Photoshop, InDesign
- Management knowledge of Google analytics
-Fluent English.
Consejos
Experience on e-commerce
Photoshop
Contacto
Isabel Rotger