Marketing & Communications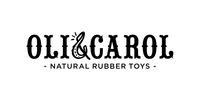 oliandcarol.com
País :

España

Comunidad Autónoma :

Provincia :

Barcelona

Población :

BARCELONA
Categoría :

Tipo de contrato :

Jornada laboral :

Completa

Experiencia :

2 - 5 años

Idioma :

Inglés(Bilingüe)
Descripción de la empresa
Oli&Carol is a recent born company from Barcelona specialized in designing natural rubber toys for modern parents and their kids. The creative souls behind the brand are Olimpia and Carolina, 25 and 20 year old sisters who decided to start a business based in Barcelona four years ago and are now selling in more than 40 countries. They love design and nature and wanted to create environmentally friendly products in a business where they could enjoy and have fun together.
Oli&Carol toys are made out of 100% natural rubber from trees, all in one piece with no holes to let water come inside. As a result they are perfect for soothing gums, hygienic, safe to chew and biodegradable. They are used as teethers, bath toys, decorative objects and more. The collections offer a wide variety of natural latex toys with different shapes and colors perfect for babies.
Oli&Carol are in continuous innovation with their products and expansions, working in new collections with new shapes, textures and colors.
Descripción del puesto
Looking for a marketing and communications specialist who would be the responsible of:

- Brand image.

- Marketing plan (online and offline) and implementing it.

- Content creation (graphic design): newsletters, banners, gifs, catalogs, videos, flyers...

- Trade shows & Events management.

- Communication & Press: press releases, contacting and followup of influencers and bloggers, collaborations.

- Social Media plan and implementation: Instagram, Facebook, Pinterest and youtube.

- Website: content, design, positioning, data analysis, improving conversion rate.
Perfil
Looking for a dedicated, creative & passionate person who loves design, marketing and branding.

Requiered medium-high level in:
- Photoshop
- Indesign
- Illustrator
- Final cut/Premier/iMovie
- Google analytics
- SEO/SEM

Required languages:
- English
- Spanish

Added value:
- Knowledge of Prestashop platform.
- Language: French or others